It is never too late to sooth fine lines. As long as fine lines still have not damaged further become wrinkles, there is hope in a jar to sooth fine lines. Even if it is dry line, the task is much more easier. Among eye cares available in market, there is key ingredients based on different mechanisms to treat fine lines: stimulate collagen production, anti-glycation, antioxidant, biotechnology compounds to repair damaged cell. Based on condition, budget and texture, you can choose your eye cream that suit you best.
There are certain eye care products work immediately at the moment you apply on it, it just looks like the eye cream is ironing your lines, smooth on them and restore back youth. However, this is a kind of fillers just to fill in lines to make it look smooth. After a few days, your skin will back to normal after wash.
1)collagen stimulant, normalize kerotosis of skin
fruit acids (AHA, BHA), PHA (maltobionic acid, gluconolactone and lactobionic acid)
La Prairie Age Management eye repair, Exuviance Age Reverse Eye Contour, NeoStrata Bionic Eye Cream Plus
2)anti-glycation
,
supply efficient amount of amino acid to prevent sugar breakdown collagen

amino acid: L-carnosine,aminoguanidine,meglumine, arginine, methylsilanol hydroxyproline aspartate, alistin

Chanel Precision Ultra Correction Line Repair anti-wrinkle concentrate, Dr brandt anti-glycation serum
3) antioxidants (fight against free radicals) and humectants/nourishers (ease dryness)
plant & herbal extracts, honey, squalane, glycerin, lipid (jojoba oil, olive oil)
Eminence wild plum eye cream, Living Nature firming flax serum, Dr Alkaitis organic eye cream, Sulwhasoo Extra Refining eye cream
4)microdermabrasion, remove dead skin cell, excellent for dry lines
rice starch, Magnesium oxide, corundum (Aluminium oxide), crystalline silica, polyethylene
Origins Modern friction, Lancome microdermabrasion kit, Kiehl's epidermal retxturizing microdermabrasion
5) biotechnology components
peptides, lipopeptide, palmitoyl peptide, Matrixyl (palmitoyl pentapepide), oligopeptide, Chronolux Technology, EGF (Epidermal Growth Factor), stem cells
Chantecaille Stress Repair Concentration (or nano gold energizing eye cream), Euoko eye contour nano life, Estee Lauder power correcting Patch, Revive Eye Renewal cream, Swiss Perfection Cellular Lifting eye gel, Olay Regenerist eye lifting serum

Applying eye care products with proper procedures is essential, the common mistakes are people apply too much product, rub into the eye too firmly or too close to eye. It will cause irritation easily. There is no benefit to rubbing the product directly into the orbital area, so just skip that mistake to abuse your eye. Follow the instructions to insure that you do a correct way.
Start with a small dot on a finger tip. You don't need a raisin sized amount. With small dot on a finger, wipe half of the dot onto another finger. Warm it with finger before applying on eye area, especially eye cream with thick texture, warming will soften it. If your hand is always cool (also symbolize your metabolism rate is slow), just cover the cream and warm with two fingers.

The next step is application. Dot little spots of cream on the bone area surrounding the eye. NOT inside the orbital area. Trust me, applying it to the bone area that surrounds your eye socket is close enough. What happens is that the eye gel WILL absorb into the skin and spread into the orbital area, so even though you aren't touching that area with your finger, the benefits of the cream WILL spread to that area. If you rub the eye cream inside the orbital area, you'd increase the chances of getting product into the eye, or into the lash area, which will cause swelling and irritation, thus not only feeling horrible, but making your eye area look puffier.
Once you have applied the little dots (just like the picture below) around the bone area of both eyes, simply gently pat the dots until the product is absorbed. You don't have to do any rubbing.. just a gentle pat of the product, so that it absorbs into the skin. If you feel like you need to rub, just be sure to rub AWAY from the eye area, and do it extremely gently.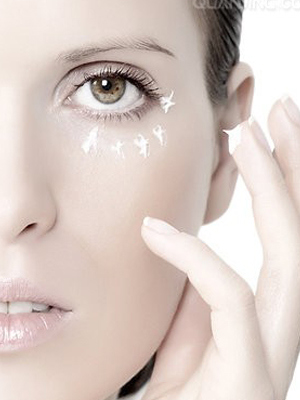 philosophy