Besides natural and synthetic source Vitamin C, plant extracts and essential oils are widely applied in whitening skin cares products. Application of plant extracts are gaining popular as the natural trend is hot as fire. Plant extracts show high anti-tyrosinase activity and melanin reduction in a numerous of studies, it is connected when most of plant extracts are often high in antioxidant, some even perform stronger effect than vitamin C and E.

However, most antioxidants are not stable, just like most ascorbic acid derivatives, easily oxidize during exposure to oxygen. That's why plant extracts are formulated together with other whitening agents, for they play roles as whitening enhancer to highlight whitening functions. It is therefore recommended to finish whitening skincares as soon as possible. No point to keep it for more than a year after opening or purchase closed expiry products when discounts are applied. The effects are discounted as well, even preservatives are not able to keep the active whitening ingredients as effective as initial stage.


Tyrosinase inhibitor
Ampelopsis japonica
玉竹,
Lindera aggregata
乌药,
Polygonatum
odoratum
白蔹,
Morus alba
桑白皮,
Panax ginseng
人参, rhubarb大黄, Saxifraga 虎耳草,
Scutellaria baicalensis Georg
i黄芩,
Poria cocos
茯苓, chrysanthemum 菊花,nutmeg肉豆蔻, cumin,
Dryopteris crassirhizoma
粗茎鳞毛蕨
,
Caragana sinica
金雀花,
Tussilago farfara
款冬 and etc.
Melanin reducer
Pharbitis nil
牵牛子,
Sophora japonica
槐树,
Spatholob
us suberectus
鸡血藤,
Rhizome atractylodes macrocephala koidz
白术,
Hedyotis diffusa
白花蛇舌草,
Angelica dahurica
白芷, hinokitiol桧木醇,green tea, grapeseed,coffee and etc.
Let's proceed to commercial whitening skin cares brands that emphasize on plant extracts:
1)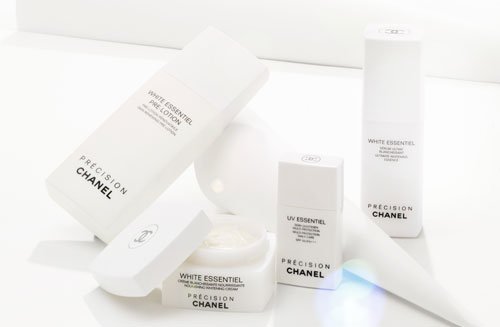 Chanel Blanc essentiel
The exclusive ENDORMELINE complex, developed by Chanel Laboratories, brings together the properties of three active anti-dark spot ingredients:
Narcissu
s bulb, turmeric, liquorice and a stabilized derivative of Vitamin C (ascorbyl glucoside)
. Narcissus bulb extract is claimed to suppress endothelin that responsible to regulate melanocyte (melanin-producing cell)
2)
Kose Sekkisei
Fortified with
Polygonatum odoratum
白蔹,
Cnidium Officinale
川芎
, Japanese Plectranthus Extract and Bracket Fungus extract
for a rich after-feel. Also formulated with
Chinese Pearl Barley薏仁,
Angelica sinensis
当归, Melothria Heteophylla
茅瓜
, Korean Ginseng高丽参 and Cordyceps Sinensis 冬虫草
for highly translucent and moisturized skin.
3)
Kanebo Blanchir
Utilize abundant species of oriental botanicals for exceptional whitening results.
Kakyoku
firetorn, Magnolignane from
Magnolia obovata
(functional whitening compound), Saxifraga虎耳草, wheatgerm, Japanese honeysuckle
and etc work synergistic to whiten skin efficiently.
4)
Estee Lauder Cyber white
RHG3 complex consist of
rice bran, mulberry, sage,
Scutellaria baicalensis
黄芩,green tea polyphenol, hinokitiol, Japanese knotweed, grapes, apple, prune
and etc, corporated with N-acetylglucosamine to work in melanin reduction.
philosophy